Skip Navigation
Website Accessibility
AVAILABLE NOW
The Designer EPIC 2



Please click on image for more exciting details.

Husqvarna Viking has been developing, manufacturing and selling sewing machines and sewing products since 1872. In that time, they have become a world leader in creating high quality top of the line sewing, quilting and embroidery machines and sergers. We carry Husqvarna Viking because we know that their products will provide years of trouble free service to our customers, and that Husqvarna Viking stands behind every product they sell.

Great New Machines from Husqvarna Viking
Please click on image for brochure.




EPIC 2 Embroidery & Sewing Machine
EPIC 95Q Sewing Machine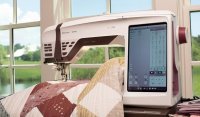 Designer Sapphire 85
Opal 690Q